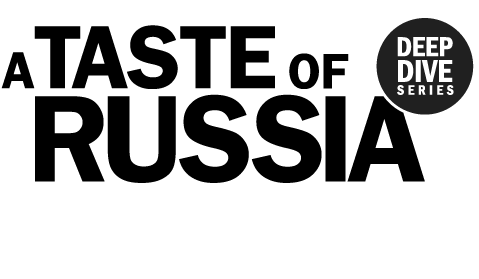 Spring 2024: February 27 • March 5
Tuesdays 6–8:30pm ($65 per class)
Register with Common Ground Food Co-op (link coming soon)
Do a deep dive into Russian culture as we sample a wide range of seasonal delights from a country with a fascinating history and even more fascinating cuisine. Now might be the best time to celebrate Russian culture just to remind us that the people and its government are not one and the same. Just as not all Americans are fans of Trump, not all Russians follow Putin. The Russian people have a reputation for being some of the warmest and friendliest people in the world (especially after a vodka toast). And boy do they know how to live life to the fullest, embracing art, culture, and especially food – from McDonalds to caviar.
In this deep dive "double feature," we'll do as the Russians do – make some great food, indulge in a celebration of good company, and make a feast of traditional Russian favorites. Of course, we'll start the evening with caviar and vodka shots, but we'll also indulge in another Russian favorite – French champagne.
In all my classes, students will have the opportunity to watch demos and participate in the preparation of our dinner party. Do come hungry and thirsty because we'll be cooking and tasting at the same time. Each class in this series is also a multi-course dinner party with wine and cocktail pairings.
Students will leave each session with easy-to-follow recipes of all the dishes on the menu. These recipes have all been adapted for the typical home cook and contain many tips & tricks to help minimize your time in the kitchen while staying true to the spirit of the original flavor profiles.
All menu items below will use locally-sourced ingredients but are subject to change based on availability of fresh ingredients at local markets.
Summer Picnic at the Dasha (February 27)
Dashas are summer homes for city dwellers in Moscow or St. Petersburg. Because Russian summers are relatively short, many people spend most of the warmer months in the country growing their own vegetables and dining outdoors. Even though it's still winter here, we'll imagine that it's the summer solstice and prepare an evening picnic under the midnight sun with imported French wines. Here are some dishes we'll be making on this festive evening:
Winter Festival Feast (March 5)
Maslenitsa (a.k.a. Russian Mardi Gras) is a pre-Lent festival with pagan roots that celeb ate the end of winter while ushering the spring. In Russia, this means sleigh rides, organized fist fights, dancing bears, and of course feasting. Sometimes called "pancake week," blinis (Russian crêpes) are the main item on the menu. At this dinner event, we'll be preparing a smorgasbord of traditional Russian festival foods paired with vodka shots, wines from Georgia, and cocktails like Moscow Mules. Here's what to expect on this festive night: