Paul Young
Educator, Designer, Culinary Explorer
@cooking.with.paul
@cooking.with.paul.young
cooking-with-paul.blogspot.com
info@cooking-with-paul.com

My friend Marina, an Ukrainian native now living in Champaign, will be the chef du jour for this special event. We will cook up a four-course home-style Ukrainian dinner just for you. Marina will introduce you to Ukrainian culture and talk about the similarities and differences between Ukrainians and Russians. She will also share her childhood memories while living under Soviet rule.
Here's what to expect on this special evening:
Champagne toast, charcuterie board
Caviar with potato chips, sour cream, vodka shots
Ukrainian Borscht
Chicken Kiev
Marina's cabbage salad
Kasha with mushrooms
Apple Sharlotka cake
Wine, beer, cocktails, digestifs
Maximize your experience (optional): Watch the 2019 historical drama 'Mr. Jones' (currently streaming on Hulu, Prime Video, and Kanopy*), then join us for stimulating conversation about the movie and its themes during dinner.
Prepare for a stimulating evening of good food, open bar, and engaging discussions
Dine with hosts who are passionate about ethnic food and international travel
Enjoy a wonderful introduction to Ukrainian food, history and culture
Have a great time at Marina's unique mid-century modern house with like-minded foodies
*Kanopy is a free streaming service available in Champaign-Urbana via our local public libraries as well as the University of Illinois library.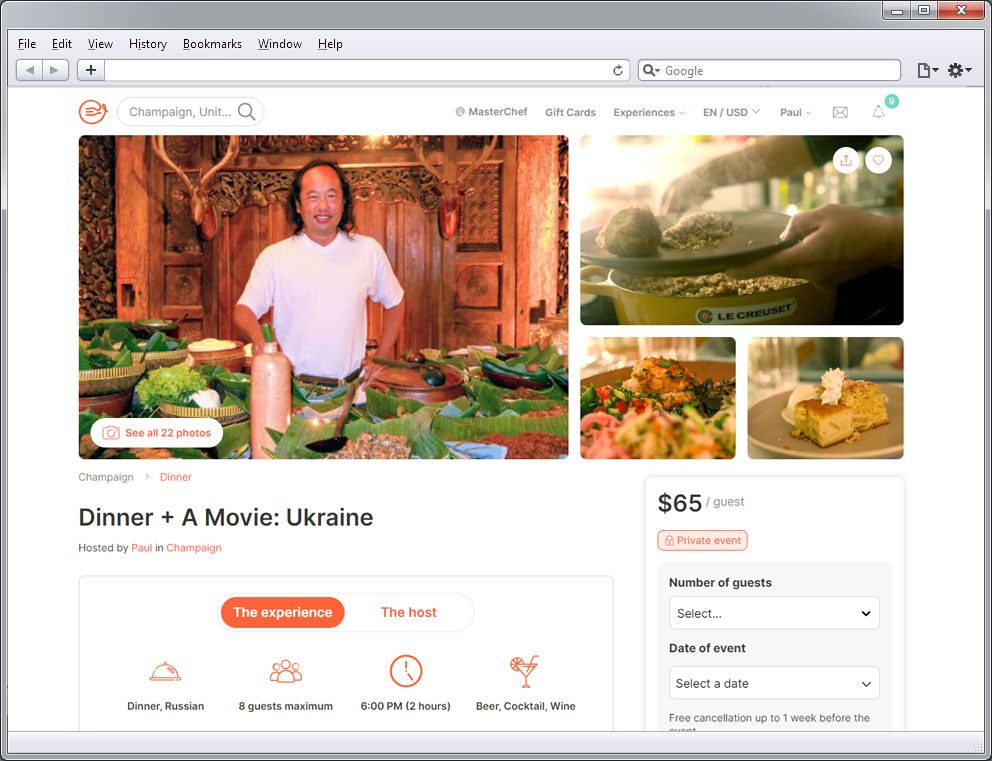 Eatwith.com is the first global community for shared food experiences, bringing people together around dining tables and food activities wherever they go. With hundreds of food experiences in every major international destination, Eatwith has become the Airbnb for unique culinary adventures. We are proud to be the first Eatwith host in Illinois outside of the Chicago area. Our goal is to bring you culinary experiences not typically available in Champaign-Urbana, hosted by locals with a passion for ethnic cuisines. We subscribe to the Eatwith mission of encouraging new cultural discoveries, sharing celebrations of diversity, and making more meaningful connections to the world — a mission that is more precious now than ever.